Common-Works
2019-2021
© Wild Gallery Brussels
Common-Works
is a guided space of exchange, a safe space, where a group of performers come together to improvise, share and experiment in order to find, on the basis of the ideas and concepts that circulated throughout the past editions of the score, a new possible access on what the next edition might be. The focus in the work lies in creating a safe and social space in order to develop a diverse array of conversational as well as practice-based strategies on how to share knowledge and formulate alternative representational structures in relation to the collective performing body.
Common-Works is based on semi-improvised movement score practices, which define events and experiences in space through the act of repetition. In the context of a continuous dialogue with the collaborating performers, the immediate improvisational area is slowly being left behind and the work becomes repeatable: a so-called "edition" is created. Each time the edition is created and rehearsed with a new group of performers.

Common-Works steadily oscillates between a process-based research where finite or productional aspects are being diverted and a performance practice that is shared within the frame of a public presentation. As such the project refers hereby to a multifaceted understanding of an audience: In the beginning the project is openly addressed to interested performers either via an open call or by a personal invitation on which basis they then might decide to join. Being part of the process, the agency for the invited performer changes to a collaborator. By continuing to develop ideas further, the collaborating performers start associate themselves with the works intent and aspirations, which subsequently is being shared with/ addressed to an audience - that is of an interested public that may already know prior editions. Processes of perception imply relation: By means of sensing and perceiving, it becomes a social container - a platform for exchange - that connects shared embodied availabilities.

Common-Works uses the contextual reference of the previous edition as a starting point in order to subsequently define new methods that can be applied artistically within discursive and emodied practices: What processes arise in us when we perceive movement? What relations are at stake while enacting or perceiving a dance together? How much does our own upbringing precondition the understanding of a dance?

When a new edition of Common-Works starts, we are inviting on behalf or in conversation with the collaborating institution a new group of performers that we have never worked before. After initiating the encounter we are re organizing a personal one hour (skype) conversation with each of the collaborating performers. We get to know their background and aspirations in the project, introduce them to the content of the work as well as ask them to provide a specific practice that they would like to share in the beginning. Then we start our approx. 14 day research creation where we work each day and "compose through conversation", an artistic gesture of Common-Works that (in)forms the overall project: it gives value and trust in the methodologies that have accumulated throughout the past editions whilst still opting to emancipate and liberate the performer's agency and make them trust in their own doing and problem solving trough a semi-improvisational enactment.

Common-Works oscillates between an intimate, process-based research and a performative practice articulated within a public presentation:
Common-Works
6.8
Kortrijk
2021
Common-Works
5.4
Munich
2020
Common-Works
3.3
Toubab Dialaw
2020
© see picture property
Common-Works
5.7
Leuven/Brussels
2021
Common-Works
4.2
Amsterdam
2020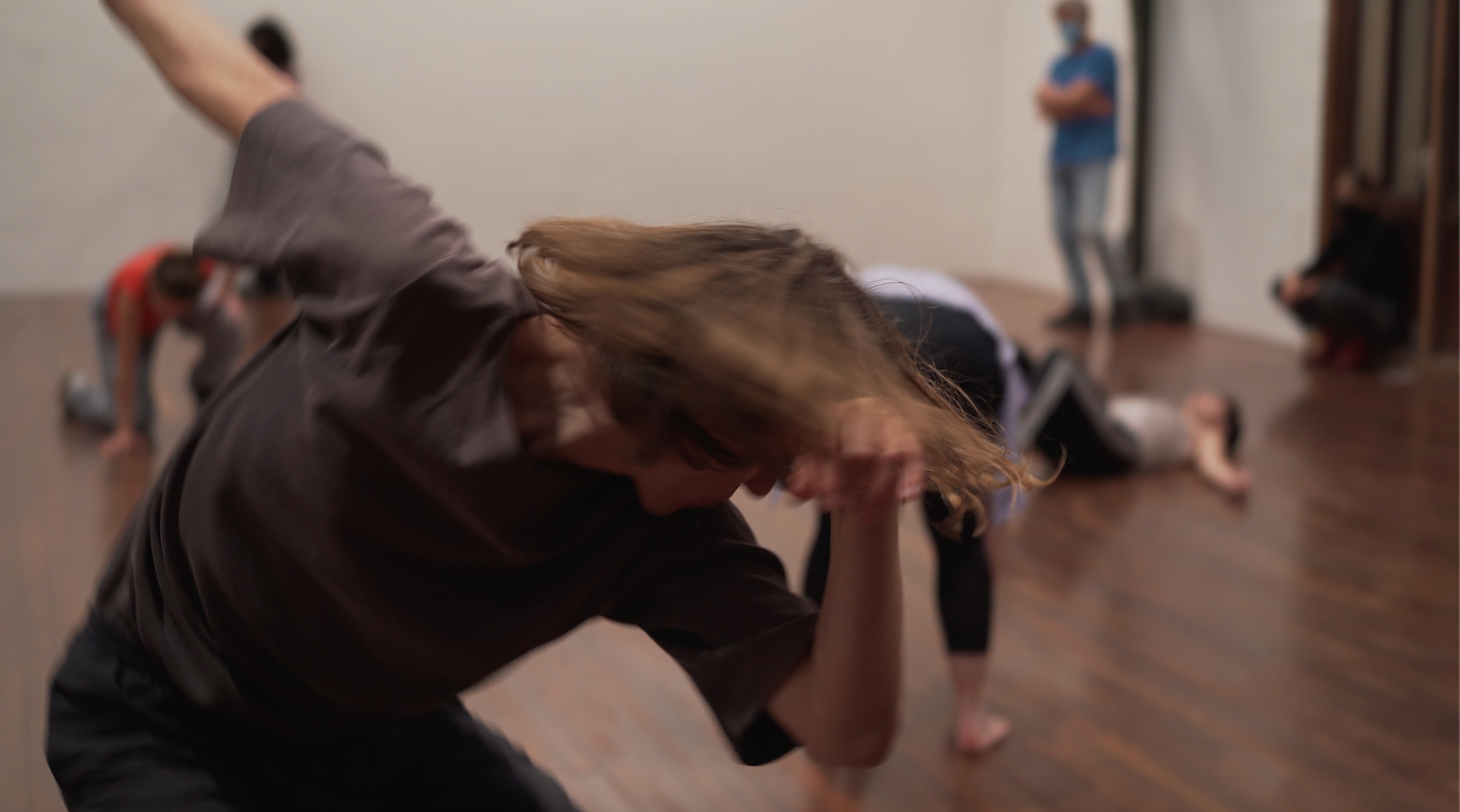 Common-Works
2.3
Taipei
2019
---
Retro-Active Tendencies 2019-2020
Retro-Active Tendencies
as a solowork-series strives to find various unspoken potentials, spaces-in-between where fiction and physical presence seem to be entangled, where dominant narratives of the past are suspended, where meaning has stripped off all of its nostalgia to the past by the very act of repetition, in order to create a place where history has to be denounced by being
re
-lived, where one starts to look back into the future - by bending back in order to relive the past.
Stripping away all the nostalgia from the act of repetition.. It could be [this].

© Mary Szydlowska
---
Semio-Rave 2019
Semio-Rave
is an improvised collective movement/performance practice which lasts along a DJ-Mix of approx. 40-minutes. The practice consists of several modulesand is guided each time by a different person. The practice was developed out of two separate needs: On one hand, as a physical "coming together" focussing on the communal aspect of the group and on the other hand, as movement score that focusses on a physical listening of complex arrangements of rhythmical gestures. It has to date been (self-)organized in Brussels, Vienna, Berlin, Munich and Taipei.